Anna in Incheon (South Korea)
Preparation of the exchange semester
The official application to FAU for Inha University is to submit a standard list of documents for external stays. Additionally, a letter of recommendation is required, but there exists a template that can be filled out. FAU will then inform you relatively soon whether you will be proposed as a candidate at the partner university. If you are nominated, you are accepted with a certainty of almost 100 percent at the partner university, but I had to wait a long time for the final confirmation. It came in mid-June and in mid-August I already had to travel to Korea, because the semester there started at the beginning of September. Afterwards, you should apply for your visa directly, if possible, so that you get your passport back in time. For this you have to go personally to a consulate, we drove to Frankfurt as a carpool. It's a long drive just to submit the documents there, but that's how the formalities are and you should plan for the time. Another thing that was a little tight were my vaccinations. For Korea, I had all the vaccinations that are also recommended for Germany, Hepatitis A & B, Typhoid and Japanese Encephalitis. However, since I traveled further afterwards, I had myself vaccinated against rabies. Since some vaccinations are injected several times with a certain minimum interval, one should already inform oneself before the acceptance of the Korean university, so that one can start directly afterwards. For living in Korea, you can choose between three options in advance. Either you go to a dormitory or you get your own apartment off-campus or you look for an apartment on site yourself. The first two options are organized by the local university, so you don't have to worry about finding an apartment if you don't want to. Also, most of the Korean buddies have already contacted us via mail before the departure, so that I could already ask them questions. The buddy program helped me a lot, especially in the beginning in Korea, because I had a contact person who I could ask everything about the university and the country if I was confused by something. Beforehand, it can also be helpful as course registration can be a bit confusing. On the Inha University website, you can find a syllabus with all the courses and then there are specific times to enroll in courses on a first-comes-first basis. However, the first week of the semester is also a course-acquaintance period, so you can also register and organize your courses there later if something didn't work out before. The Student Guide provided by the Inha University helps with this.
Except for the fact that the confirmation of the Inha University came quite late, the planning and organization in advance through the co-organization of the FAU was no problem at all.
Arrival in South Korea, Visa and Registration formalities on site
I flew with Lufthansa directly from Frankfurt to Seoul, Incheon. With the visa that you get from the embassy in Germany, the entry is no problem at all. From the airport we took the subway to our accommodation, because I had first booked a private accommodation with my boyfriend via Air-BnB for the first month near the university. Since there are also enough information desks at the airport, it was no problem to get the T-Money Card for public transportation and to go to our apartment with a subway map in hand. If you took an apartment from the university, there was also a ride service twice a day in the last week before the program started that took you to the university. If you arrive late at night, you can also take a cab to Incheon, costs are about 25-35 Euros. Before the start of the semester there is an information meeting for the exchange students in which everything organizational is clarified. If you are still confused about something, there is an International Student Office at the university that will answer all your questions. This means that even if some things were a bit complicated, e.g. with the registration in the country, there were always contact persons available who helped me.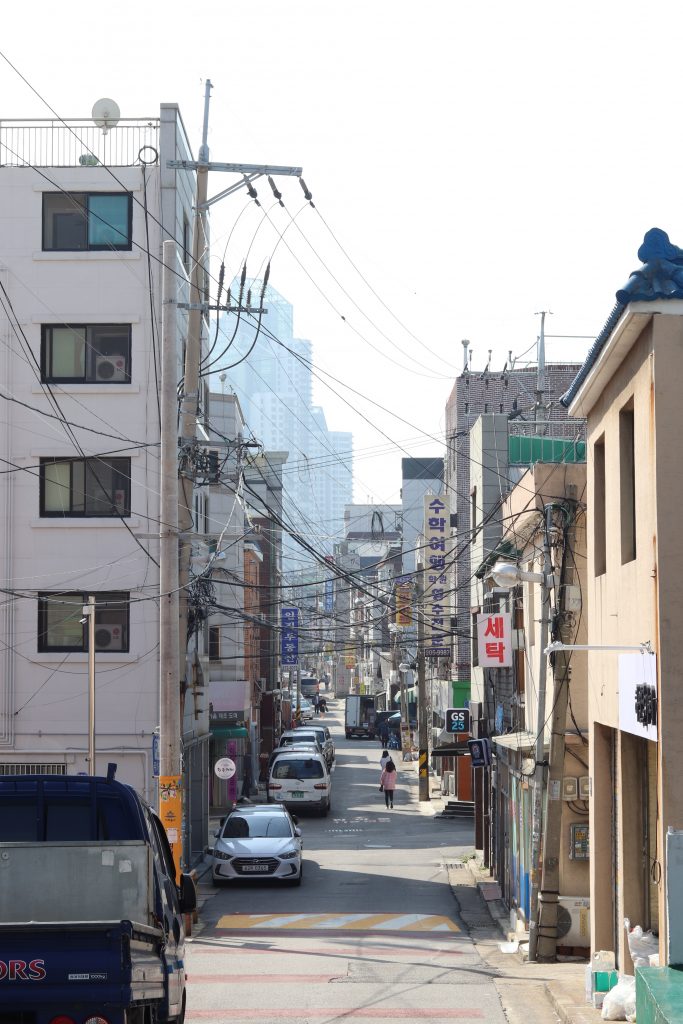 Accommodation
I first lived with my boyfriend for a month in an Air-BnB apartment, because we wanted to look for our own apartment afterwards. The apartment through Air-BnB went smoothly. Since most doors there have a combination lock, you usually never see the host in person, because before the arrival the access code is communicated via chat. Afterwards, we looked for our own apartment directly at the university. For this we used an offer section in the Inha app. There are also a lot of Real Estate Offices at the university, but then you also pay a fee to them if they help you search. We reached a landlord through the app and were able to rent an apartment for 3 months. English skills were not really there, but we were able to clarify everything important via the Google translator. Then we still had the choice between a high deposit or that we pay the rent for the three months at once. However, it is rather unusual in Korea to rent for such a short period. My conclusion is that it worked out well for us with an apartment at the university, but if you don't have any special requests that the university apartments can't fulfill, then it's easier to take the direct route through the university. And in a few places we also needed the help of our Korean buddies.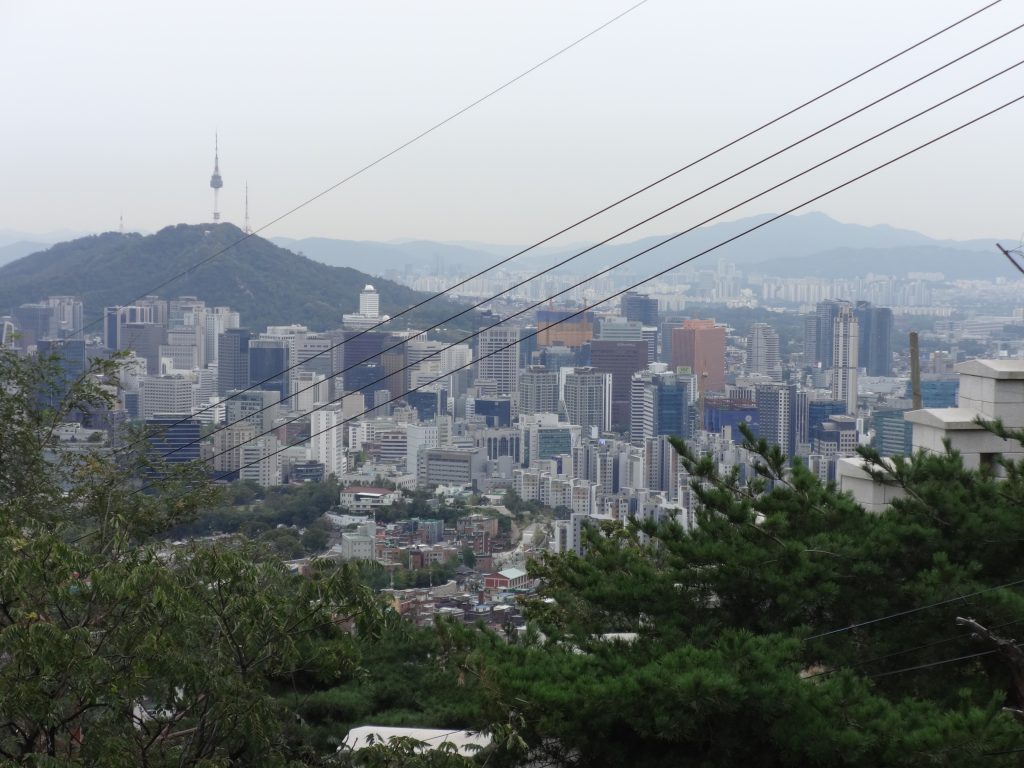 Studies
In the first week of the semester you can choose all the courses you are interested in and you can still change your course selection afterwards. The offer of English courses is not huge, but usually sufficient for 1-2 semesters. The courses are similar to those in Germany, except that attendance is compulsory in all courses and this is also included in the grade. If you are absent too often in a course, you automatically fail. However, this was not a problem for anyone in the end. I myself did not find the English courses particularly difficult, and others told me the same. I was told by Koreans that the Korean courses are more difficult because the English courses are partly about practicing English and therefore the most difficult content is not taught there. The Korean language course for beginners was very well done and I also liked the Korean Politics and Society course. I can definitely recommend these two courses if you want to learn something about the country, the culture and the language in Korea. So, in conclusion, the course list and the courses I elected were just right for me for one semester.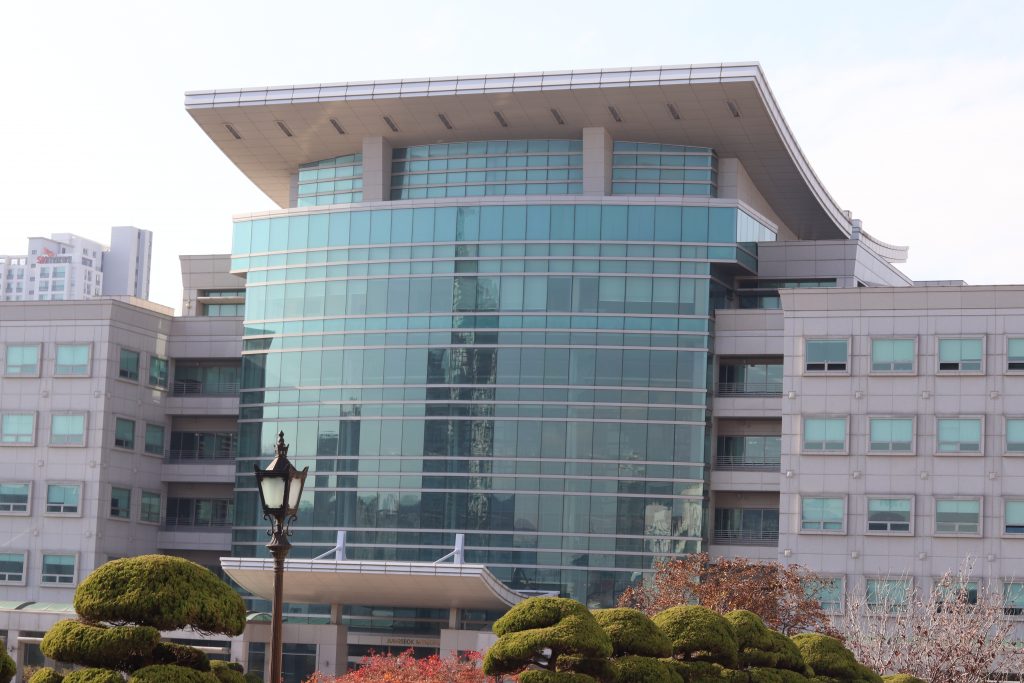 Inha University
Inha University has newer and older buildings on its campus. Especially the newer buildings are excellently equipped, but also in the older buildings nothing is missing. Air conditioning cools down the inside in the summer and in the winter it can be used for heating, so you can always work well. I particularly liked the library. It is very large and modern and offers many seating options and good free Wi-Fi. You are also allowed to take your bags inside. You only have access with your student card. The large upper part with the books is only opened Mon-Sat during the day, but there is a very large basement and this is open 24/7, so you can always go there to study or rest. There are also always lounges in the other buildings and you are also allowed to hang out and study in empty classrooms. There is also a gym on campus, which is recommended because it is quite cheap compared to the public ones around the university. There are also many clubs at the university. Finding or joining these can sometimes be a bit difficult as an exchange student, but if you are interested you can always ask which ones are available. There were also two clubs specifically for the contact between exchange students and local students, which then also organized excursions. In addition, the university also offered an English-Korean café, where you could exchange ideas with students from all over the world twice a week.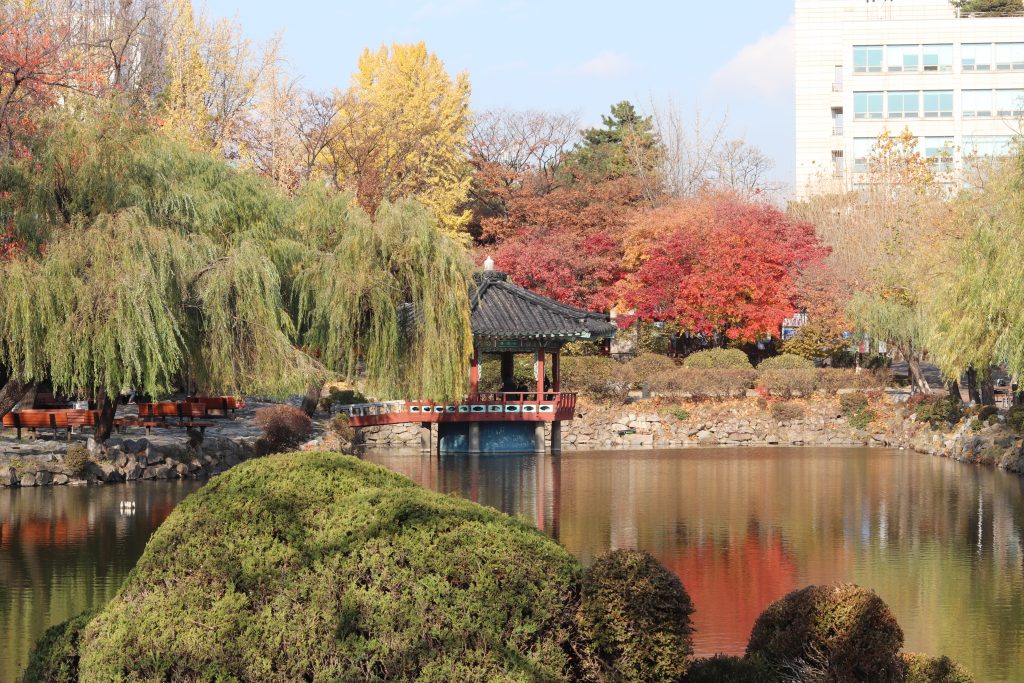 Daily life and leisure
Because Inha University is a campus university, everything is located in a small area. Right next to the university is a small neighborhood where there are many restaurants, bars and stores and where most of the students live. Therefore, everything is within walking distance in everyday life. From the university, you can also walk to various parks, if you want to go into the countryside or take the bus to Wolmi Island, then you are directly at the sea. There are enough banks that all have a Global ATM to withdraw money. The fees are usually 2-4 euros regardless of the amount withdrawn. Getting a sim card there is a bit more difficult, because you need the Alien Registration Card of the country for a contract, but you get it earliest in the middle of the semester. With the help of Koreans, we all got a prepaid sim card. This was also completely sufficient, since there is also very often open WLAN and to write a message or to look something up on the map does not need much data volume. I can recommend this, because the WLAN is not completely comprehensive and it helps to have mobile data for public transport or to meet with other students. However, no one in the cell phone store knew English, so we really had to rely on our buddy. I also liked the location of the university because everyone is out in the same neighborhood in the evenings, so it's very easy to meet other exchange students and make new friends in the beginning.
Seoul itself is 1-2 hours away by bus and subway, depending on where you want to go in Seoul. However, the connection runs in short intervals, so you can always spontaneously leave for Seoul. I myself also made many trips there to see different places in Seoul. While there are more bars at the university, there are also big clubs in Seoul itself. Some of the exchange students sometimes went there on weekends to party. Due to the relative proximity to Seoul and the airport, it is also easy to travel if you want to fly to another country for a weekend during the semester or if you want to travel within Seoul.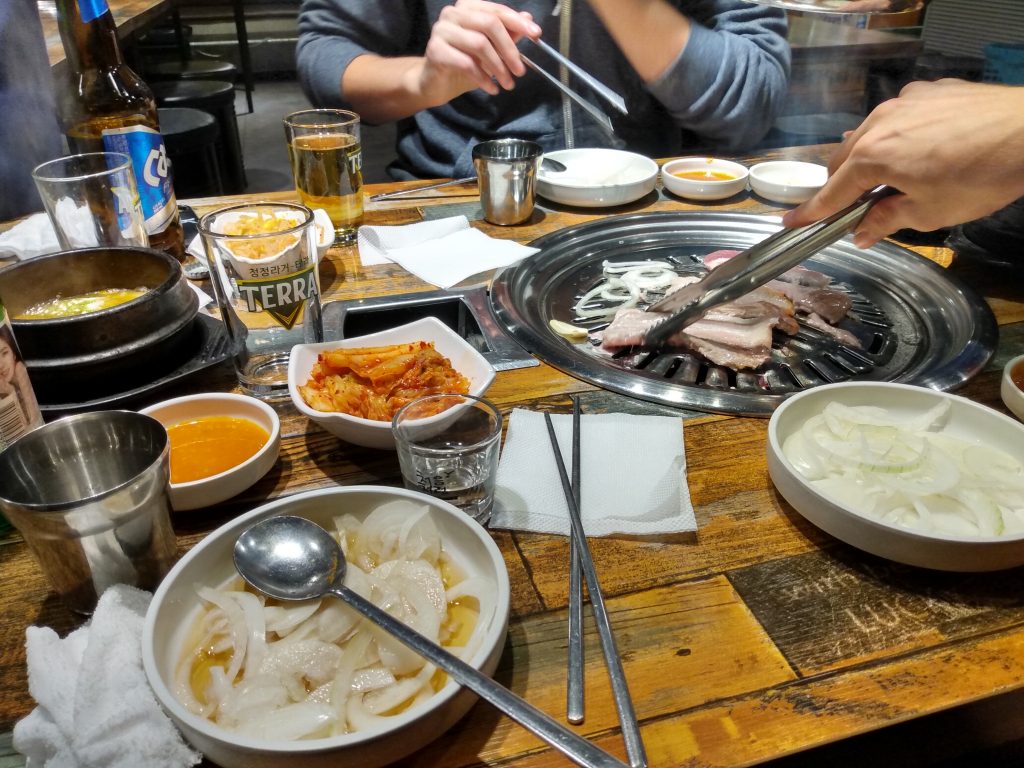 Living costs and Funding
The monthly costs were a little bit higher for me than in Erlangen. Housing is about the same price, public transportation is very cheap, but food is a bit more expensive. Restaurants are much cheaper than in Germany, but it is still more expensive than cooking for yourself in Germany. And buying food there is more expensive, so you almost always eat out at least once a day. Also, of course, I did a lot of sightseeing, which created additional costs. But overall I would say that you can live on a similar price level as in Erlangen. I myself got the Promos scholarship, I can only recommend everyone to apply for it, as it is a significant financial support. I also got a travel scholarship, which I applied for. Since one has already all application documents together anyhow, I can only recommend to apply to as many other scholarship places as possible. However, I received the money from both scholarships after half of my stay, which means that you have to be prepared to pay the money in advance.
Conclusion
Overall, I felt very comfortable during my time at Inha University. I was able to take classes but still had enough free time to get to know the country and due to the university and the other exchange students I was never alone, even though it might take a little longer to make friends with Koreans since most are a little more reserved there. I also felt very comfortable in Korea, because the standard of living is almost comparable with the German one and I have never got into an unpleasant situation and always felt very safe, even when I walked alone at night. Incheon is of course a quiet part of town and some people have told me that they found it better to live in Seoul, because there is much more going on and also culturally and artistically more is offered, but I liked it well to live there in the university district, because for me it felt quickly like a home there, as all the other students were out there and you cannot get lost as easy as in Seoul.